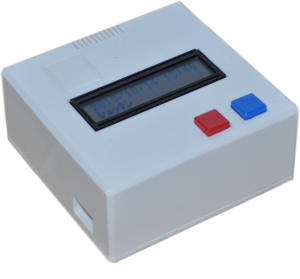 1. Low price
You can introduce this inexpensive than other products.
2. Touch embossing
Because it uses a touch embossing by NFC, time card is not required. You can also use the existing mobile-smartphone, and IC card, so you do not need to purchase a new dedicated IC card.
3. Easy data output
Embossing data is output in CSV format to a USB memory. It will reduce the trouble of typing the data to the attendance management software from paper.
4. small, compact
The base size is about 100mm2, doesn't take space.
Embossing of a non-contact type IC card (NFC)

Since the time card is not required, cost savings are expected.
You can use existing mobile, smartphone, the IC card. Dedicated card is not required.

CSV output of embossing data

Time data is output in csv format. The output destination is USB2.0. storage.
Because the data can be handled directly on the PC, the labor of input and risk of mistyping to the payroll software is reduced, in comparison to the time card.
Since this csv file is protected by a password, it reduces the risk of data leakage.
Since the closing date can be set to any day, you can output monthly data from any date.
Since the period of the output data (the start and end date specified) can also be selected, you can also check the data of any month.

Low price

In Japan, planned price is 30,000 yen that is inexpensive than other companies touch embossing type attendance management system (often, more than 100,000 yen). So, this is economical.
When we sell in your country, the price is along your country economy.

Ecology

Since there is not throwaway of the paper, it is ecological.

small size

100mmx100mm bottom size, and about 40mm height. It doesn't take space.

Biometric authentication

As an option, It is possible to use the fingerprint authentication device.
the next deployment

It corresponds to be able to data held in the cloud.
It is scheduled to be corresponding to the face authentication in manipulative authentication method (scheduled for iPad version).